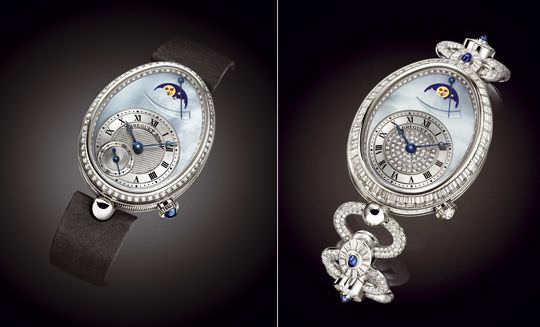 Dedicated to all the ladies and their Easter outfits are two watches sure to fit in. The Girard Perregaux Cat's Eye ladies watch and Breguet Reine De Naples are two finely egg-shaped timepieces for the pastel-laden woman in your life on this day. Each from noble swiss watch makers, with prices like these you will hope that she is going to wear them more than once a year.
In fact, egg-shaped watches are nothing new, but typically reserved for the lady folk. Back in the late 18th century, egg-shaped pocket watches were being made for women, as a more graceful alternative to the ordinarily round shaped pocket watches. The oval shape gives the watch maker more too add decorative elements to the watch. Both the Girard Perregaux Cat's Eye and Breguet Reine De Naples have moonphase complications, adding to the status of these watches, but not something highly useful for day outings. The Breguet watches add a power reserve indicator that is very useful for this type of watch as it is good to know when the watches need winding as this will not be any woman's only timepiece. The less diamond gilded of the two Breguet Reine De Naples also has a small seconds counter.
These are by no means the only oval shaped woman's watches, but an excellent representation of them. Reserved as pure luxury goods, most of these watch will exhibit intense detailing and use of the highest quality materials (white gold for these cases). The Girard Perregaux Cat's Eye has a hand painted mother of pearl face with a cloud-like pattern, which the Breguet Reine De Naples offers a similarly painted face and a machine guilloche tuned dial. Each decisively classic in its own way, and sure to be the pride of her Easter Sunday.
See Breguet and Girard Perregaux watches on eBay here.
See Breguet watches on Amazon
See Girard Perregaux watches on Amazon