This is a slightly older collection (from 2003), and the reason I talk about it is because Swatch plays an important role in the new James Bond Movie: 007 Quantum of Solace. Further still, there will be a new collection of Swatch watches dedicated to the 007 villains, all to celebrate Bond's newest villain; Dr. Swatch. Stay tuned for more on that.
Apparently, 007 has been in our lives for over 40 years, and in 2003 this collection there was one watch for each of the movies (that had come out at the time). After so many personalities, actors, villains, and ladies, we still enjoy watching the death-proof super spy on the screen. Of course the original James Bond watch was a Rolex, and then Omega stepped in to steal the limelight with a Seamaster on 007's wrist in each new flick. But lets not focus on that, Swatch (who owns Omega) thinks that other characters or aspects of the James Bond movies deserve a watch. More affordable ones at that.
While there are a few new movies (most specifically Casio Royale and Quantum of Solace), you still have available the full line of watches from the 007 40th Anniversary collection. Actually, there are 20 models to choose from. Each is dedicated to one of the movies, as I said, and named as such. For example, "From Russian With Love" has a Soviet character to it with a large red star, and "On Her Majesty's Secret Service" is a tasteful Swatch watch with an aperture akin to the timeless openings.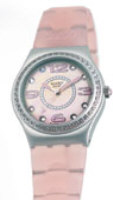 Not all the watches are for men. "Octopussy" has an interesting Egyptian styled bangle strap, while "Diamond Are Forever" is a sheer pink watch with pink crystals around the bezel. Swatch has the ability to design a number of highly varied watches that all share high quality ETA quartz movements. Prices for each of these watch is was likely to be under $200 when they were released, and I am sure that many of them are still available today.
Check back soon for information on Dr. Swatch in the new 007 Quantum of Solace, and the Swatch 007 Villain watch collection.
Check this link for pictures and a list of each of the 40th Anniversary 007 Swatch watch collection.
See 007 Swatch watches on eBay here.
See Swatch watches on Amazon here.
[phpbay]swatch 007 | swatch bond, num, "", ""[/phpbay]