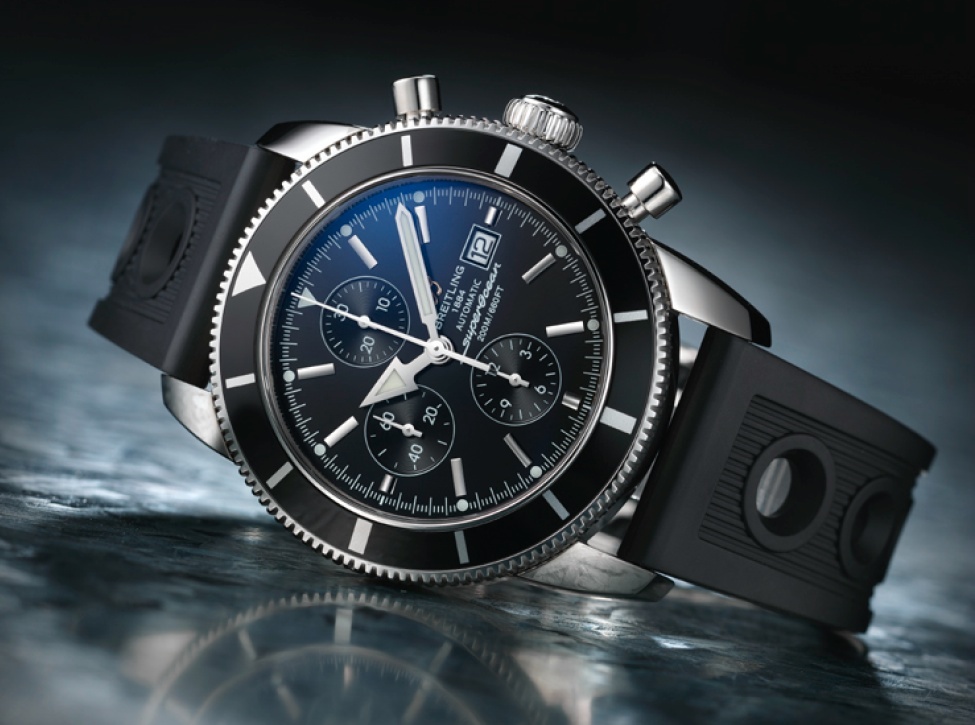 Breitling recently released the wildly simple yet attractive Superocean Heritage based on diving watch designs from the 1950s. It was a controversial watch as some people failed to see it's inherent beauty and appeal. Of course, observant enthusiasts noticed that it was just this simplicity that made the Superocean Heritage stand out. Breitlings are know for being ultra-busy in their designs. Often times people comment that they have a hard time telling the time among the many numbers and subdials on the standard Breitling watch face. This is true given the amount of information available with the slide rule on many models. Yet the Superocean Heritage deviated from this cluttered ideal.
What was lacking however in the Breitling Superocean Heritage was the feature that Breitling is best known for, the inclusion of a chronograph in its watches. Thus the standard Superocean Heritage might have been a bit lacking for some Breitling traditionalists, but a stellar timepiece by most standard with its COSC chronometer movement, large size, and classic appeal.
Now Breitling has announced a chronograph version of the Superocean Heritage to the delight of many fans. Using Breitling's Caliber 13 movement (based on the Valjoux 7750), you get a chronometer class movement with a 12 hour chronograph. What separates this watch from many other Breitling chronographs is the legibility. This is not a busy and complicated watch to use or read. The beauty of Valjoux 7750 and alike movements is that it can be integrated and have little negative effect on the legibility of a watch. Here, the subdials are subdued, and the hour markers are prominent. The hands are large and thick enough to be identified at a quick glance. This functionality and style should appeal to anyone who enjoys the standard Breitling Superocean Heritage watch, and even those who do not.
While the image above shows the black version of the watch, it is also available in a blue or bronze color with matching rubber strap. There is also a classically styled steel bracelet available. Pricing for the Breitling Superocean Heritage is probably going to be in the $5000-$6000 range based on the premium that a chronograph movement usually fetches.
See all Breitling Superocean watches available on eBay here.
See Breitling watches on Amazon here.
[phpbay]breitling superocean, num, "14324", ""[/phpbay]