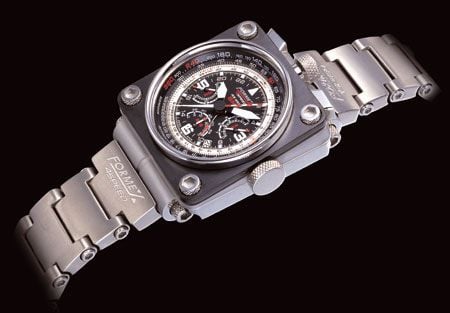 Formex is one of those great watch companies that makes watches you are happy exist in the world, even if you don't want one. Anyone can graciously appreciate the design of these relatively reasonably priced watches that embody a unique stylized blend of form and strength. We are glad that companies exist out there to create such wildly niche products that are sometimes over-the-top, but appreciable at least in a "that's so cool" type of way. As though a passionate watch maker decided the world needed such watches, as opposed to a committee of business people deliberating market demand and cost efficient concerns.
Formex makes "racing inspired swiss watches" that each have the "4Speed" name attached to it. To be honest, it is unclear to me why the 4Speed name is part of each watch, especially since there are no modern 4Speed racing cars. Formex watches have a decidedly modern appeal in their racing instrument inspired design themes. The idea is that not all of their watches are meant for race car driving, quite the opposite as they make all manner of activity watches from driving, diving, and flying tools.
Unique to each Formex watch is its patented suspension/ shock absorption system. Here, a spring mechanism allows the watch case to move independently of the strap or bracelet up and down. This is to protect the watch from shock damage, and to allow the watch to not succumb to vibration at high speeds that might damage or affect the watch's accuracy. This is useful especially when using the chronograph and tachymeter to measure speed. A full demonstration of the suspension system is available at their website.
Presented here is Formex's 4Speed AS 6500 GMT watch utilizing a Valjoux 7754 Automatic movement known for having a GMT hand. Being crafted in Titanium, this watch is lighter than its large 47mm diameter might have you believe. The "AS" in the name stands for Air-Speed because this is a pilot's watch. Styled after the ever popular Bell & Ross BR-01 series of watches, the AS 6500 utilizes a square case, but adds some interesting new features to the design. Inside the watch exists a rotating bezel operated by the large crown at the 3 o'clock position. This internal bezel offers calculation data pertinent to a pilot. Known as watch slide-rulers, these are common on Breitling watches and can offer a good deal of information to the learned. In addition to the 12 hour chronograph, the Valjoux 7754 has a GMT hand for displaying a second timezone on a 24 hour scale. This is an excellent feature for travelers or pilots to keep track of a second timezone.
None of the features of the Formex AS 6500, are as much of a unique selling point as is the combination of the features and look of the watch are to the buyer who takes attention. Full titanium, large square face, rugged race-inspired looks, nothing else looks quite like it, and for a few thousand, it is much cheaper than watches such as the French BRM watches that are also racing inspired, but appeal to a different pedigree of watch owner. I can see even non watch enthusiasts loving the Formex as a watch that stands out and calls attention. As such, Formex is a proud manufacture and would never release a product with form over function. These watches will operate reliably, and are intended to be highly durable. This concept might be mystifying to most consumers, but when it comes to the majority of watch makers, they must appeal to a very demanding clientèle. Take a good look at the Formex 4Speed AS 6500 GMT watch, and the rest of the Formex line of racing inspired watches.
See all Formex watches available on eBay here.
See Formex watches on Amazon here.