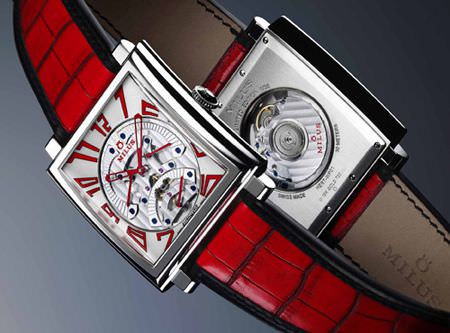 This name is not uttered so easily, but the Milus Herios TriRetrograde Seconds Skeleton Watch is an instant classic. It even requires two full breaths to say the entire name, a quality that luxury watches seems to pride themselves on. This long titles does the Milus Herios Triretrograde Seconds Skeleton proud. A quick glance reveals a perfect square tank watch. The perimeter of the face has art-deco fashioned numerals running around a partially skeletionized view of the circular movement. No matter how square a watch is, that vast majority of movements inside these watches are round. Luckily, this movement features an automatic movement which winds the watch as you wear it. Many watches of this ilk possess manually wound watches for two reasons. One, the watch can be a bit thinner, and two, it provides unobstructed viewing of the movement which is at issue in a partially skeletonized watch. The decision to make this an automatic watch increases its everyday practicality, and thus the appeal in my opinion.
The "TriRetrograde" name refers to the three seconds counters. A retrograde counter is one that goes in one direction only without making a circle. When the hand or counter reaching one end it "jumps" back to the starting point. This watch has three retrograde counters each counting twenty seconds. Operating in a clockwise manner, when one counter finishes counting twenty seconds, the hand jumps back and pauses to allow for the next retrograde counter to display the next twenty second increment in the sixty second minute. Thus each minute is displayed using all three retrograde counters, one at a time, for a total of sixty seconds. The effect is more visually pleasing than functional, but as gimmicks go, this is a very well done as viewing the seconds elapse can be a pleasure in itself.
The combination of the affluent classic styling and the unique TriRetrograde seconds counters has earned this Milus Herios several design awards. As the Hublot Big Bang did for Hublot, it is my feeling that the Herios TriRetrograde Seconds will add new life in Milus, at least in many markets. Available in a number of color schemes and in highly polished steel or gold, the Milus Herios TriRetrograde costs between $5,000 and $20,000 depending on the materials and where you purchase it. A rare and desirable watch, it should be instantly recognizable to those able to appreciate the distinct appeal.
See Milus watches on Amazon here.