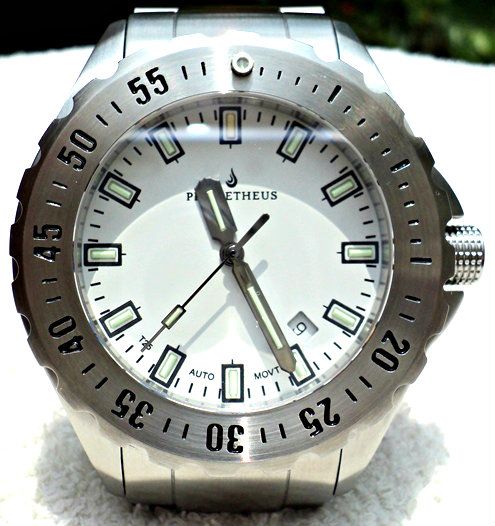 Written by D.G.C – who was the winner of the Prometheus Baiji watch giveaway here on aBlogtoWatch.com. Thanks kindly to him for his follow-up thoughts and pictures.

Prometheus Watch Company is a serious new contender in the wrist watch world. The company is based in Portugal and joins a growing trend to contract manufacture high quality time pieces using proven components to their desired specifications. Frankly, this is a wise move as the lowered overhead reduces cost and the savings are passed to the client. By specifying components, the company is able to build a quality item piece-by-piece.
Thanks to a contest on the website aBlogtoWatch joining with Prometheus for a give-away contest, I was able to become the owner of a Prometheus Baiji Tritium Diver White Dial Stainless Steel. The Baiji men's tritium tube automatic diver watch is a tribute to a freshwater dolphin species that used to live in the Yangtze River in China and became extinct due to man's pollution (I have no idea what they taste like – don't ask).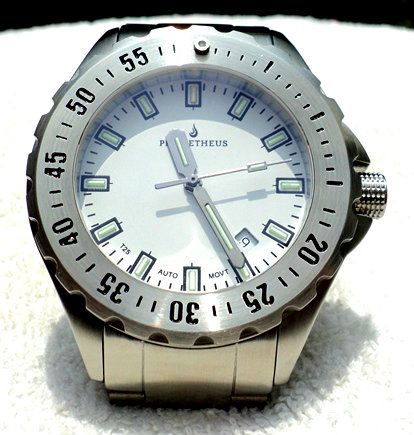 Prometheus has created a serious diver's watch with their Baiji model. It's a hefty build with a 316L stainless steel case, anti-reflective coated sapphire crystal, a solid 316L stainless steel bracelet that includes a two-link diver's extension. Its dial is available in 3 colors – black, white and orange, and the case and bracelet come in two types of finishes – stainless steel or a black PVD coating. The case size is listed as 43 mm wide. Lug size is 22 mm. It features a signed screw down crown, with a hacking feature, and a listed water resistance down to 30 ATM which is 300 meters/1000 feet. Which is about 975 feet deeper than I'll probably go. So my snorkel dives are well within spec. I think this depth range will also be just fine for 99.9 % of actual "dive watch" users.
The screw-in crown is a finely machined feature. The knurled knob is well made. It is easy to use and has the signature Prometheus design icon on its end. This is a '3 – position' feature that offers 1) manual wind 2) date set and 3) time set respectively. Screw it in and its bank-vault tight for dust and water pressure resistance. Hint – dust is more of a worry for most watch wearers than water. My non-scientific measurement put the Baiji at about 13.5 mm thick so it should be just fine under most cuffs. It's smooth and about as 'snag-free' as is to be expected.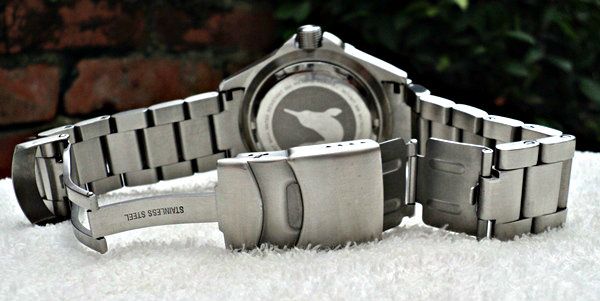 Looking at the white dial model I have, we can see a clean face with excellent legibility. I value this highly in a watch. I spend a lot of time on a motorcycle and/or a motor-scooter. I want to see the time at a quick glance so my eyes are diverted from the road and traffic as little as possible. The Prometheus Baiji provides this "quick glance" ability very well. This is also helped by the black outlines on the time indices. As is characteristic of this movement, the date window is at the 4:30 position on the dial. Honestly, I would like to see the black outline continued for this window.
The 120 click unidirectional external bezel is solid and each 'click' is firm with minimal back travel. It uses minute designators as shown. A T25 tritium tube is stuck in the "12 o'clock/60 minute" position. It works – more about that later.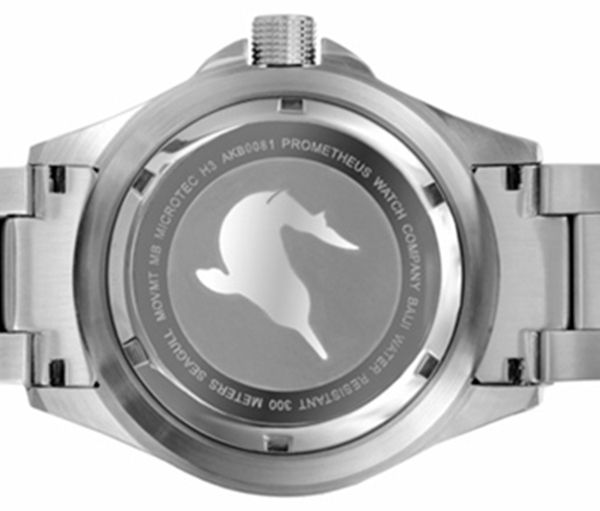 Personally, I am not a fan of 'display backs'. I know this is a big thing nowadays, but I like a solid back. It just "feels" more secure and is one less thing to have to worry about. It's a personal thing – your opinion may be different and that's fine by me.
The Baiji has a nicely engraved solid steel screw-in back. It features a laser engraved Baiji dolphin, info about the watch and an engraved individual watch serial number. The last is a nice feature. The back is 'smooth' and rides well on the wrist. The dolphin engraving is pretty cool.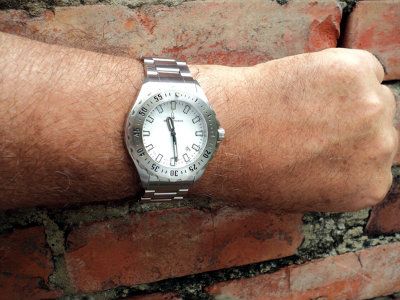 As shown, I wear a watch just above my wrist knuckle. My non-scientific measurement put he diameter of this area just at 20 or so mm. I had the local watch shop remove one (1) link from the supplied bracelet – fits nicely now.
Speaking of the bracelet, this pic shows the deployment/clasp feature. I feel that this deployment may be a weak-link in an otherwise very hefty and secure package. The single bar fold-up joint may be a source for problems. But when its 'locked-up' for wear this may be a unnecessary concern. Time will tell.
At the heart of this watch is the Seagull ST 2130 movement. The Seagull ST2130 movement is based on the ETA 2824-2 movement. It is so similar as to be 'parts interchangeable' with the ETA movement. I think this is a wise choice on the part of Prometheus. Checking the internet confirms the dependability and accuracy of this movement.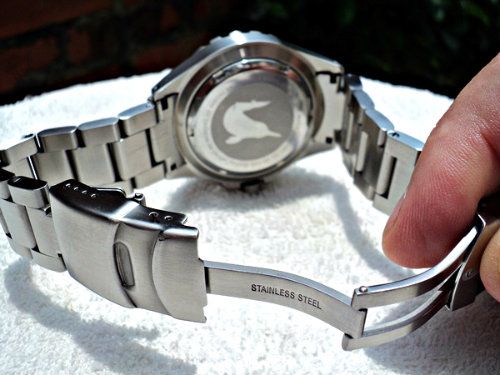 Another 'class feature' of the Baiji is its use of Tritium T25 tubes for no-light/low-light luminosity. The Baiji uses 12 of these tubes at the hour indices, one each on the hour and minute hands and one (1) on the bezel 'top' indicator. They work very well and should continue to work for the next 25 years or so. The orange tube at "12 o'clock" looks especially cool. Low light/no-light readability is no problem – and it does not need to be "charged."
My social group consists of guys who wear the standard Breitlings, Seikos, Omegas, Rolexes, Ball and Oris wrist watches (and yes, some of us even wear a Timex on occasion). All who have noted the Baiji have been suitably impressed. So, for what that's worth – there it is. Frankly, none of us are into the "status" thing we all like quality, dependability and function more than status. The Prometheus Baiji meets those terms.
A final thank you to Mr. Carlos Carvalho, the head guy at Prometheus Watches and Mr. Ariel Adams, who has the excellent watch site aBlogtoWatch.